Shelf Reliance Honey Oat Banana Muffins
THRIVE Honey Crystals are the easy answer to keeping honey in your Home Store. The crystals rehydrate in water to make a sweet and smooth honey that is great to spread on toast or sweeten your baking recipes. With the extended shelf life you will always be able to have these honey crystals on hand. The dry crystals make a crunchy treat to sprinkle on muffins or toast and is a great way to add a little sweetness to water and tea. THRIVE Honey Crystals are the perfect naturally sweet addition to your Home Store!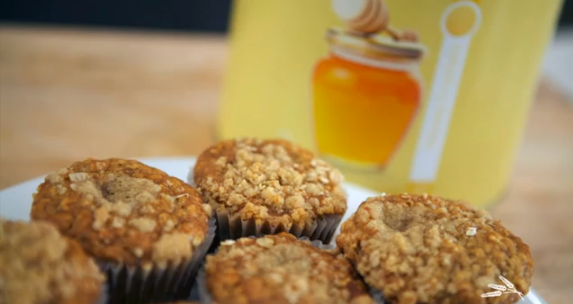 Honey Oat Banana Muffins
by Chef Todd Leonard, CEC
Prep time: 25 min
Serves 12

Ingredients
Instructions

Combine all dry muffin ingredients in a bowl and stir to combine. Add the wet ingredients and blend together until just incorporated. Scoop into a 12-muffin tin with 12 paper liners. Mix all struesel ingredients together and cut with dough cutter. Sprinkle even portions on top of the muffins.

Bake in oven at 400 degrees for 15-20 minutes.