Freeze Dried Ground Beef Meatloaf with Spinach & Goat Cheese
The other night I was in the mood for comfort food so I went to the pantry to figure out what to cook.  I decided my freeze dried ground beef was going to be the center of my meal and decided to try making a meatloaf with it.  This turned out to be the best meatloaf I have made to date.  Making this with freeze dried ground beef gave it a more crumbly texture although it was deliciously moist.  Another difference using freeze dried ground beef vs fresh was the absence of the nasty greasy mess in the bottom of the loaf plan…..YAY! 
To go along with the meal I decided to make corn and garlic mashed potatoes via Paula Deen.  The meal was awesome and the fact that most of the items were from my home store was a plus. 
    Using freeze dried ingredients allows me to save so much time in the kitchen.  I will often re-hydrate my items together in the same bowl. I added my ground beef, spinach, onions and Italian seasoning in a large bowl and covered with 2 cups of boiling water.
  Once my beef mixture was re-hydrated I drained off the excess water.  Usually I will squeeze the remaining water out although this time I decided to leave a little extra water in there so it didn't dry out while baking.  I mixed in my goat cheese & stuffing then added the mixture to a greased loaf pan.
I topped my meatloaf with a yummy glaze.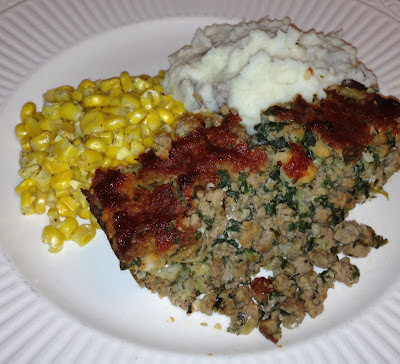 Spinach & Goat Cheese Meatloaf
Ingredients:
2 1/2 Oz Goat Cheese Crumbled
1/2 t Salt
1/2 t Pepper
Preheat oven to 350 degrees.  In a large mixing bowl combine the first 4 ingredients and cover with 2 cups of boiling water.  Let mixture sit for 10 minutes then drain.  Mix in stuffing, egg mixture & goat cheese.  Pour mixture into a greased loaf pan and layer with topping.  Bake uncovered for 1 hour.

Topping:
1/2 Cup Spaghetti Sauce
1/8 t Apple Cider Vinegar
1 t Worcestershire