Apple Cinnamon Chex Mix
Every year around this time we will make a huge batch of Chex Party Mix.  It's one of those little things that we enjoy doing that brings back a lot of memories.  While making our party mix I noticed a recipe on the back of the box that had dried apples in it and I immediately thought of using my fuji apples and vanilla yogurt bites!  Both are super flavorful and the fuji apples add an awesome sweet & tart bite to the mix.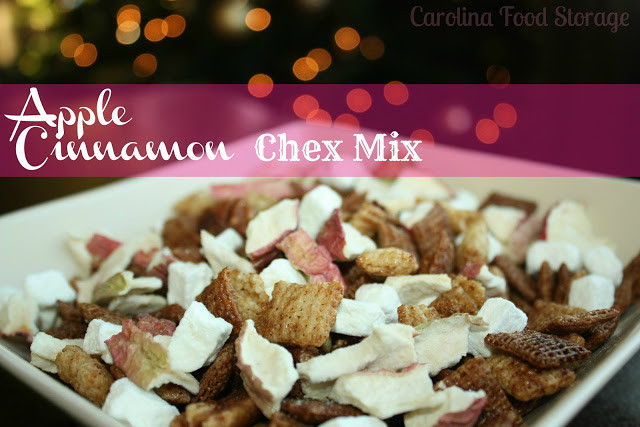 Ingredients:
4 Cups Wheat Chex Cereal
1 Cup Rice Chex Cereal
1/4 Cup Butter or Margarine
1/3 Cup THRIVE Brown Sugar
1 tsp THRIVE Honey Crystals
1 tsp Ground Cinnamon
1/2 Cup Pecan Pieces
1 Cup THRIVE Fuji Apples (broken into bite sized pieces)
1/2 Cup THRIVE Vanilla Yogurt Bites
In a large microwavable bowl, mix cereal and pecans.  In a small microwavable cup, combine butter, brown sugar, honey crystals and cinnamon and microwave for 1-2 minutes stirring half way through until mixture is boiling.  Pour mixture over cereal, stirring until cereal is evenly coated.  Microwave on high for 4-5 minutes stirring after each minute.  Spread mixture on a sheet of tin foil to cool.  Once cool mix together with apples and yogurt bites and serve immediately.
* Since freeze dried foods contain no moisture they tend to get chewy if left out.  You can make this mix ahead of time just make sure to keep it in an air tight container or bag.