Thrive Life Chicken Cranberry Pot Pie Simple Plate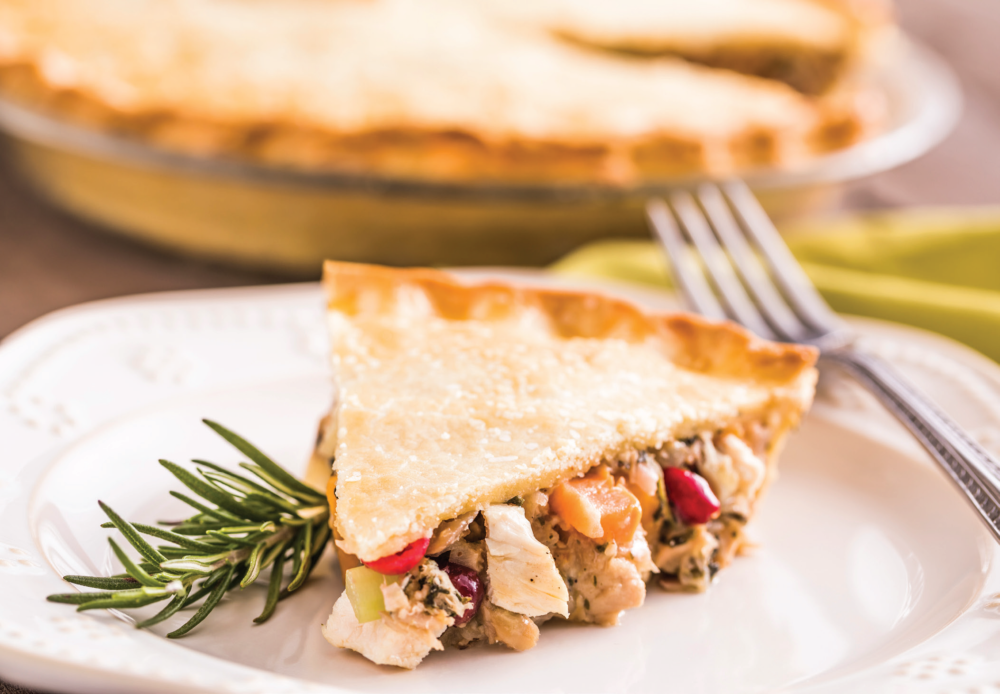 A creamy vegetable and chicken medley wrapped in a golden crust makes for a pot pie that Grandma will praise! This meal is here to satisfy your fall cravings in record time, so get that good ol' homecookin' without all the prep work!
Click the image above to buy your simple plate meal today!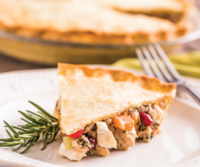 Chicken Cranberry Pot Pie Simple Plate
Ingredients:
Garlic | 2 tsp.Chopped Chicken | ¾ cup
Veggie Mix Sweet Potatoes | ⅔ cup
Mushrooms | 2 Tbsp.
Spinach | ¼ cup
Chopped Onion | 2 Tbsp.
Sweetened Cranberries | ¾ cup
Seasoning Blend Chef's Choice Seasoning | ¼ tsp.
Italian Seasoning | 2 tsp.   Béchamel sauce mix | ⅓ cup Pie Crust Mix White Flour | 1 ½ cups
Salt | ¾ tsp.
Cane Sugar | 2 tsp.
Shortening Powder | ½ cup
Butter or Oil | 1 Tbsp.
Butter | 4 Tbsp.
Egg | 1
Directions:
To make pie dough, add ice to 1 cup water and let sit. Blend 4  Tbsp. of cold butter and pie crust mix in a food processor. Once butter is cut in, gradually add ⅓  cup strained cold water just until dough holds together. Don't overmix. Press dough together, wrap with plastic wrap, and refrigerate 10 minutes. To make the filling, measure out 2 ¾  cups of water and set aside. In a medium sauce pot, add 1  Tbsp. of butter or oil and garlic, then sauté on medium heat until aromatic (10–30 seconds). Add in chopped chicken, veggie mix, and onions and sauté for about 30 seconds, then add the water. Bring to a simmer, and simmer for 6–7 minutes. Add in the sweetened cranberries, seasoning blend, and béchamel sauce mix and let simmer for an additional 1–2 minutes, or until thick. Add salt and pepper to taste. Let the filling cool slightly in the fridge while moving on to step four. Roll out the remaining dough piece and place on top of pie. Trim the edges of the dough to the rim of the pie tin. Seal the edges by crimping them together. Preheat oven to 400 degrees. Grab refrigerated dough and split into 4  parts. On floured surface, roll out 2  pieces of dough big enough to overflow the pie tin by 1 inch. Place dough in the pie tin, and spoon the cooled chicken filling on top. For a deep golden crust, lightly whisk an egg and brush onto the pie dough. Bake in the oven for 17 minutes (22–25 minutes) or until golden brown. Allow to cool for 10 minutes. Wasn't that simple? Choose from a variety of Thrive Life ingredients to whip up your own family classics faster.