Meal Deliveries
It's like having a personal grocery store
With a Home Store, you can have everything that you need to provide for your family at your fingertips. It will eliminate those inconvenient trips to the grocery store and unnecessary fast food runs. And there's no easier way to build and maintain your Home Store than with the Q. This revolutionary online program brings food and supplies right to your door. It's completely customizable— you decide the budget, and you choose what you want delivered. It's that easy.
We are sure that you will be pleased with how easy THRIVE is to cook with, and that you will enjoy the convenience of having so many healthy choices right at your fingertips. Your family's well-being is our highest priority, so we offer only the absolute best. You can always be confident that THRIVE is made with the highest quality products.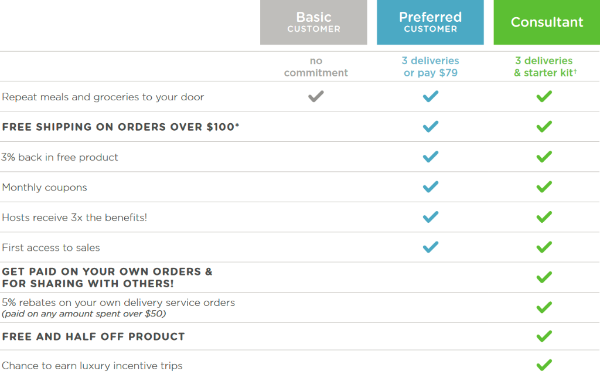 Can I select my Simple Plate meals?
Yes! You'll get to pick from several healthy, delicious, and easy meals that have been chef-approved by our in-house culinary team.
Can I receive Simple Plate just once?
Yes! Sign up for Simple Plate, receive your first delivery, then go in and cancel your Simple Plate account.
Do my meals come on a recurring basis?
Yes! Quick and healthy dinners are always in style, which is why Simple Plate is available through our recurring delivery service. During set up, you'll customize how often you'd like your meals to come as well as the processing date. You can cancel your delivery service at any time with no fee.
*How do I get free shipping?
Only Preferred Customers and Thrive Life Consultants can qualify for free shipping. Free shipping is available on all Preferred items purchased in the delivery service when your order subtotal is $100 or more. You can sign up to be a Preferred Customer in the signup process. Hawaii, Alaska, and Puerto Rico receive half off shipping.
Can I select the groceries in my Grocery Box?
Yes! You get to pick from hundreds of clean, simple groceries to add to each delivery. Or you can let us fill your box based on your favorites!
Do you offer Simple Plate meals that are gluten free, dairy free, or vegetarian?
Yes! We are growing our meal options for varied dietary preferences. We currently offer a limited number of vegetarian, gluten free, and dairy free meals that you can select from when picking out your meals.
Can I skip a delivery?
Yes. You can skip upcoming deliveries simply by clicking on "Skip" in the edit window of your Simple Plate delivery.