Cheesy Rice With Beef
A few months ago I was trying to figure out what to cook for dinner. I decided to make
something with what I had on hand and my Cheesy Rice With Beef dish was born. I have
since made this meal several times and just now got around to writing down a recipe to share.  This is a great recipe that could made using 100% THRIVE food storage ingredients!!
Enjoy!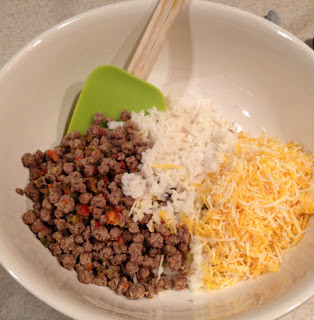 In a medium sauce pan bring rice and water to a boil. Boil for 3-5 minutes stirring frequently.
Meanwhile cover ground beef and peppers in boiling water. Once rice is cooked add to a mixing
bowl with the drained beef and pepper mixture. Add cheese, milk & sour cream then transfer to
a greased baking dish. Bake on 350 for 20 minutes.
Giveaway Announcement! 
I just posted a recipe on our new Facebook page and am giving away the THRIVE ingredients to one lucky winner. To enter hop over and like our new page AND the Cheesy Rice With Beef recipe.
https://www.facebook.com/CarolinaFoodStorage
How easy is that?
The winner will receive one pantry can of each:
THRIVE Freeze Dried Ground Beef
THRIVE Instant White Rice
THRIVE Red & Green Bell Peppers
The winner will be selected April 25th!