THRIVE Life – Potato And Egg Casserole
Sometimes there is nothing better for dinner than breakfast!  Since we have an abundance of eggs from our hens, I am always looking for ways to work them into our meals.  This yummy casserole has it all, a little bit of green veggies, potatoes and cheese.  You could even add some sausage or ground beef to this recipe to make it a little heartier.
One of my favorite things about this dish is that I can just scoop in my freeze dried ingredients without rehydrating and go!  I am all for making my time in the kitchen quick and easy.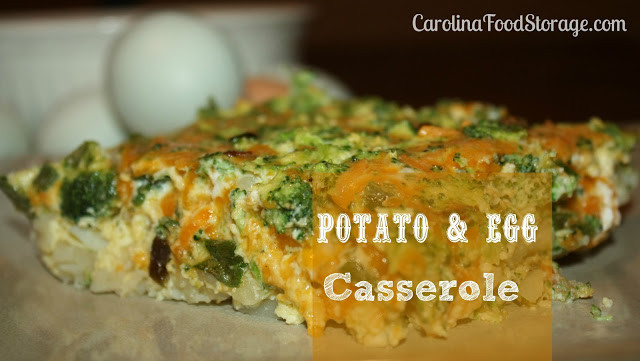 Ingredients:
2 cups thrive potato chunks
1 cup thrive freeze dried broccoli 
1/2 cup thrive freeze dried green onions
3 whole eggs
4 egg whites
1/2 cup thrive sour cream powder*
1 cup thrive freeze dried cheddar cheese
1 cup thrive instant milk*
1 tbs thrive freeze dried parsley flakes
1/2 t salt
1/4 t pepper
3/4 cup water
*prepared
In a medium pan boil potato chunks in 3 cups of water for 8 minutes.  Drain and layer potatoes in a 9 x 11 baking dish.  Combine remaining ingredients in a large bowl and pour over potatoes.  Bake for 25-35 minutes at 350 until eggs are set.