Buffalo Chicken Deviled Eggs
This past Easter I decided to "sign up" for deviled eggs as my contribution to our family's  Easter lunch.  Mind you I have never attempted to make deviled eggs, but I thought I would give it a try since we have an abundance of fresh eggs.
I didn't want to make plain old deviled eggs, mainly because I don't like them.  So I decided to make a buffalo chicken style egg.  I was a little nervous about how they would turn out and honestly was scared to try one.  Luckily I had a whole group of unsuspecting family members to be my guinea pigs!
Turns out they were a HUGE hit and even I was a big fan.  These will definitely be on the menu next year and probably for Super Bowl as well.  As my brother in law said….they taste like a little buffalo wing….yummy!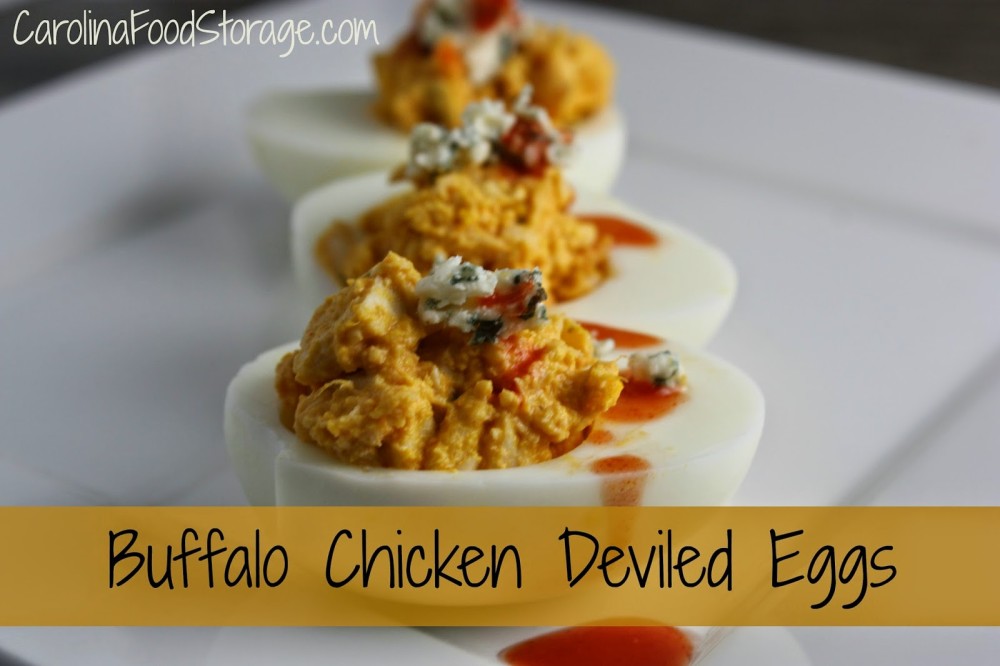 ingredients
12 boiled eggs
1/2 cup thrive freeze dried chopped chicken*
1 tbs thrive freeze dried celery*
3 tbs hot sauce
2 tbs ranch dressing
Fill a large pot with cool water 1″ above eggs.  Bring to a boil for 1 minute, cover and let sit for 15 minutes.  Remove eggs and place them in a bow of ice water to stop the cooking process.  Once eggs are cooled, peel and halve the eggs.
Combine chicken, celery, hot sauce, dressing and egg yolks.  Mix with a fork until blended.  Scoop mixture into egg halves.  Serve cold and top with blue cheese if desired.