Broccoli Chicken Lasagna
This is surely a dish that we will make again.  Thanks to my THRIVE ingredients I didn't have to pre cook my chicken or chop my veggies.  I also used no boil lasagna noodles together that probably saved me about 30 minutes of prep time.  Next time I make this I think that I will use a can of Alfredo sauce instead of making my own cream sauce.  I think I ruined my sauce pan by burning the milk!!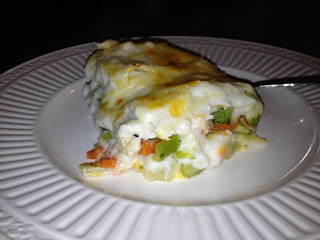 6 no bake lasagna noodles (I used Barilla)
3 1/2 Cups Milk
1/2 Cup Flour
1 t Salt
1/4 t Pepper
1/4 t Hot Sauce
1/4 Cup Parmesan Cheese
1 Cup Shredded Cheddar Cheese
Rehydrate your Chicken, Broccoli, Carrots and Onions and set aside.  In a medium saucepan, whisk together 1 cup of milk with the flour until smooth.  Stir in remaining milk, salt, pepper and hot sauce.  Cook and stir over medium heat until thickened and bubbly.  Remove from heat and add Parmesan cheese.  Layer two noodles in an 8″ square dish.  Cover with half of the Chicken, Broccoli, Carrots and onions, top with 1/3 of the sauce. Repeat another layer then top with remaining sauce and shredded cheese.  Bake covered for 20 minutes on 350.  Remove cover and bake an additional 10 minutes.