THRIVE Life October Specials
Jump into fall with new products and October specials!
Your Consultant
Carolina Food Storage
Jump into Fall with October Specials!
October is all about fall foods. We've got lots of great fall items on sale, plus we're launching a new seasonal product: Spiced Apple Cider! Watch Chef Todd make tasty fall recipes on our October Thrive It Up broadcast, and order now to get great prices on the ingredients for your fall favorites!

Autumn Harvest Pack
#25269
Spiced Apple Cider, Ground Beef (FD), Green Onions (FD), Hearty Chili with Beans, Instant Pinto Beans, Monterey Jack Cheese (FD), Peppercorn Seasoning Blend, Seasoned Chicken Slices (FD), Tomato Dices (FD), and Red Bell Peppers (FD). Pantry cans only. Available through 10/31/14.
$150.40 $127.99 Q Club: $123.19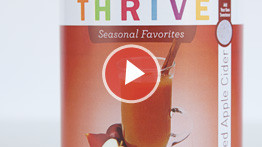 Spiced Apple Cider
Enjoy this exclusive in-house blend made from THRIVE Apples, great both hot and cold. Get it while supplies last!
Gluten-free and non-GMO
No articial colors, flvors, or preservatives
Vitamin fortified, with 100% daily value Vitamin C
Add your own sweetener
1 can makes 14 gallons of cider
Pantry Can Only: $20.99 $20.59 Q Club: $19.99
Instant Pinto Beans
$14.89
Q Club: $10.49

Green Onions (FD)
$15.49 $12.99
Q Club: $12.39

Monterey Jack Cheese (FD)
$51.99 $43.39
Q Club: $41.59

Ground Beef (FD)
$58.29 $48.59
Q Club: $46.69

Tomato Dices (FD)
$39.99 $35.29
Q Club: $33.99

Hearty Chili with Beans
$9.49 $8.69
Q Club: $8.19

Chicken Slices (FD)
$55.59 $49.09
Q Club: $47.29

Red Bell Peppers (FD)
$36.99 $30.89
Q Club: $29.59

Peppercorn Seasoning
$8.59 $7.19
Q Club: $6.89