Queso Blanco Chicken Casserole
It doesn't get much better than combining a bunch of ingredients from the pantry and coming up with such a tasty meal.  While searching through the cabinets I spotted a can of queso cheese and decided that this was going to be the inspiration for our dinner.
All you need is a can of queso and rotel tomatoes, a few tortillas, rice and chicken and you are good to go.  Its great that you can have all of these ingredients in your pantry ready for when you need them.  These are all shelf stable items, no refrigeration required. The recipe makes a good bit. You could easily cut it in half although you would need to find another use for the other half of your canned tomatoes and cheese. Enjoy!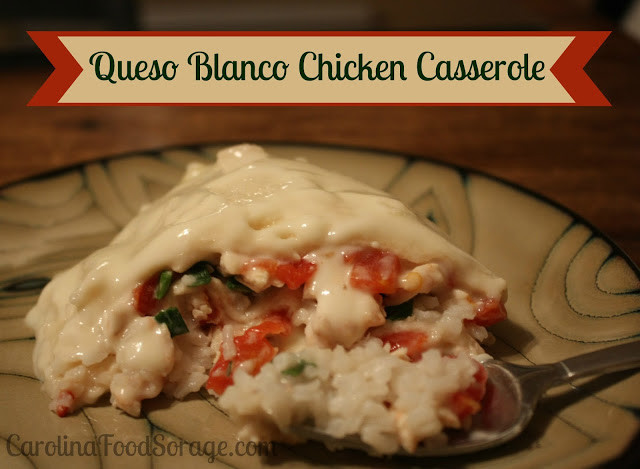 Ingredients:
6 Flour Tortillas (6″)
1 Can Rotel Fiesta Tomatoes
1 Can White Queso Cheese
1/4 Cup THRIVE Freeze Dried Green Onions
2 Cups THRIVE Freeze Dried Chicken – Rehydrated
1 Cup THRIVE Instant White Rice – Prepared

Preheat oven to 325.  Layer a deep casserole dish (I used a 9″ x 6″ oval) with two tortilla shells, half of your rice, green onions, chicken, tomatoes and 1/3 cheese.  Repeat this layer and then top with two more tortillas and layer with the remaining cheese.  Bake covered for 30 minutes.