THRIVE Potatoes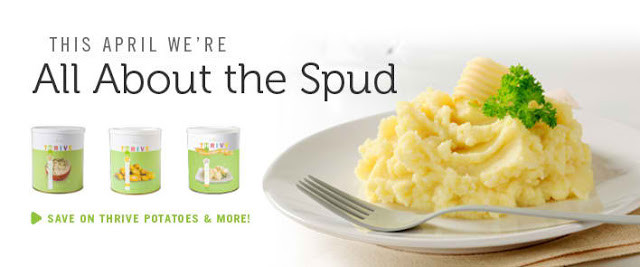 This month all of our potatoes are on sale….yay! I absolutely love potatoes so you definitely wont see me on a low carb diet. Many nights we will eat a dressed up potato for dinner, its a quick and easy one dish meal.
I often get asked what the difference is between our
potato dices
and potato
chunks
. THRIVE potato chunks are dehydrated and have a firm texture so they require cooking to rehydrate and soften. They have a shelf life of 25 years unopened and 18 months once opened. Our diced potatoes are freeze dried making them very light. To rehydrate you can simply add water. They also have a 25 year unopened shelf life and will stay good for 2 years after opening. I prefer the dehydrated potatoes, they cost less and once rehydrated have a better texture for soups and potato salads.
Our
potato beads
make wonderful mashed potatoes that are already perfectly seasoned. In addition to tasting great they are an awesome value, only $0.29 per serving. When making the potatoes I will almost double the amount of water & milk which gives me a nice creamy mix and makes the beads go a long way.
Below are a few of my favorite potato dishes using THRIVE potatoes.