Spinach Potato Casserole
This casserole is my go to meal when I want a warm home cooked meal in minutes. The potato beads have quickly become one of my favorite THRIVE ingredients to cook with.
It is so nice to have a healthy option for a meal instead
of a frozen dinner!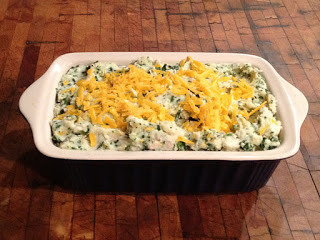 1/4 Cup Shredded Sharp Cheese
Bring water & milk to a boil in a medium sauce pan. Once boiling immediately add potato beads and remove from heat. Whip the potatoes with a fork until blended then add sour cream and spinach. Top with cheese and bake in the over for 15 minutes at 350.
Note: If you want your casserole creamier you can add extra milk or water. I do not add salt to this recipe since the potato beads already have a nice flavor to them. You could also use 100% THRIVE ingredients to make this dish.
Enjoy!