Shelf Reliance Sausage Balls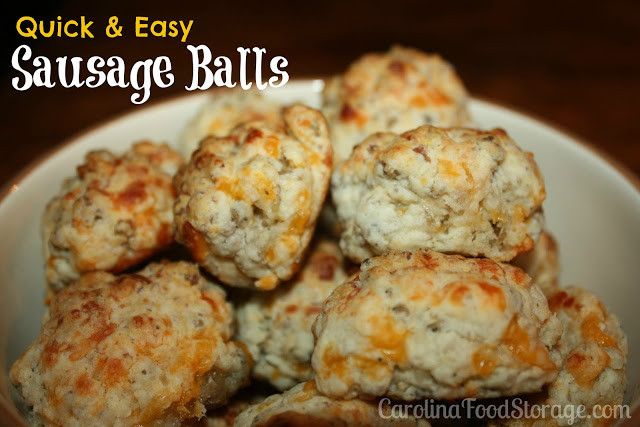 Let me start this post with an apology to my fitness coach Natalie!  I know that these are not on my list of   things I should be eating but I just couldn't resist.  I am getting ready for a show Thanksgiving weekend and wanted to bring something to the show that would be nice and cheery for a holiday weekend.  My husband suggested sausage balls, which I LOVE!
I made a half batch and they are AWESOME.  The best part is that I didn't have to handle raw pork.  I always hated how my hands got so messy when making these and I didn't have that problem using THRIVE.
This recipe could be made with 100% THRIVE food storage ingredients and would make a great "Gift in a Jar".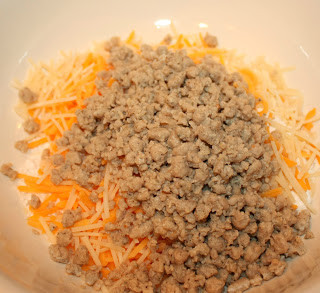 It is amazing that there are only a few ingredients in these tasty little bites!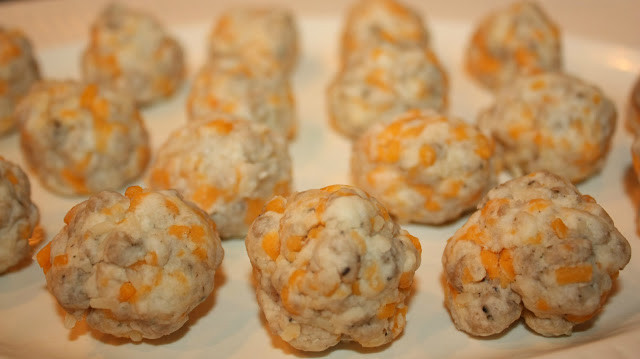 Ingredients:
1 1/4 Cups THRIVE Freeze Dried Sausage Crumbles
1 Cup Water
1 Cup Bisquick
1 Cup THRIVE Freeze Dried Shredded Cheddar Cheese *
Preheat oven to 425 degrees.  Combine 1 cup boiling water with sausage crumbles and set aside for 7-8 minutes.  Once sausage is re-hydrated drain excess water and combine with cheese and Bisquick in a medium sized mixing bowl.  Mix well with your hands.  Make 1″ balls by rolling mixture in the palm of your hand.  Place the balls on a cookie sheet sprayed with non stick spray and bake for 13-15 minutes. Makes approximately 20 balls.
*Rehydrated
CHEESE RECONSTITUTION RECIPE
Todd C. Leonard, CEC | Serves: 8 | Prep Time: 4 min
Directions
1. Place the THRIVE cheese in a glass bowl.
2. With a spoon, lightly stir cheese while drizzling cold water over the cheese. Stir continuously until all the water is incorporated into the cheese.
3. Water should just barely start to collect on the bottom of the glass bowl. This is a sign that the cheese has absorbed enough water.
4. Place cheese in a zip lock bag and store in refrigerator overnight or for several hours before use.
Note: Cheese will last up to 8 days in refrigerator. Continue to reconstitute cheese, as you need it, following these simple steps. Adjust quantity for individual needs.