Shelf Reliance Harvest 72″ #10 only $229
From now until December 16th (or while supplies last) the Harvest 72″ #10 rack is on sale for 50% off! This is a great shelving unit that saves valuable space and keeps your cans rotated on a first in first out basis.
Regular price for this unit is $459.99, on sale for $229.00 This sale is not available online. To take advantage of this sale give me a quick call and I can process your order! 803-443-6636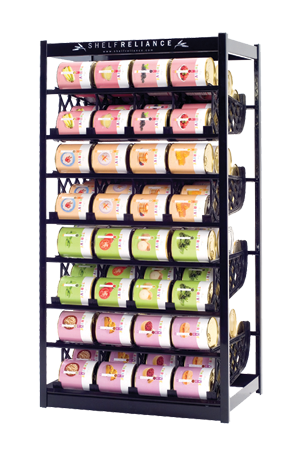 The Harvest 72″ #10 is a breakthrough food rotation system. This unit will hold 112 gallon size cans, andoffers versatility and convenience by taking the hassle out of can storage. The Harvest 72″ #10 features a front-loading technology that automatically rotates cans on a first in first out basis. This system guarantees a more organized pantry or storage room in minutes.
Tech Specs
---
Dimensions
Capacity
Up to 112 gallon-sized cans
Height
72″
Depth
24.5″
Width
36.5″