Shelf Reliance Cheeseburger Casserole
This casserole has quickly become a standard dinner that I serve on week nights.  It is quick and simple to make and can be made with 100% food storage ingredients.  Sometimes I will bake them in mini single serving dishes.  This makes it easy to have leftover portions ready to pop back in the oven.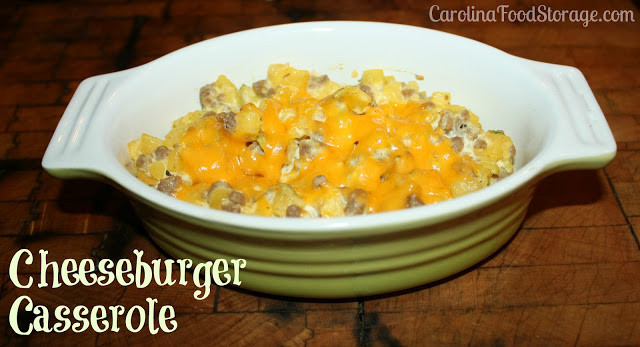 Ingredients
1 1/2 Cups THRIVE Potato Chunks
4 Cups Water
1/2 Cup THRIVE Cheese Blend
2 Tbs THRIVE Freeze Dried Onion
1/2 Cup THRIVE Freeze Dried Celery
1/4 Cup THRIVE Sour Cream Powder (mixed with 1/2 cup water)
1 Cup THRIVE Freeze Dried Ground Beef
1 Tbs Italian Seasoning
Preheat oven to 325 and grease an 8″ x 4″ loaf pan.  Combine first five ingredients in a large sauce pan and bring to a boil.  Boil for 15 minutes on medium high heat or until potatoes are tender.  Meanwhile rehydrate ground beef with  Italian seasoning and drain.  Once the potato mixture is done, strain the excess water. In a large mixing bowl combine potatoes, ground beef and sour cream. Top with optional shredded cheese and bake for 10-15 minutes.
Shared with  The Prairie Homestead, Laura Williams Musings