THRIVE Life Taco Dip
This recipe is an awesome appetizer and I can guarantee that there won't be any leftovers!  My friend Jennifer shared this recipe with me and I wanted to make it with 100% Shelf Reliance ingredients.  Not only did this save me the time of browning the meat I didn't have to worry about draining off the grease and it is so tasty no one would ever guess that it was from my food storage!
I decided to make a small batch yesterday for a cook out that we were having for my Father's Birthday.  I had just put the dip into the oven and started cleaning the house a little bit.  I guess I couldn't hear the timer and came in the kitchen to find my husband diving in before I could even take pictures.  I guess he couldn't wait…..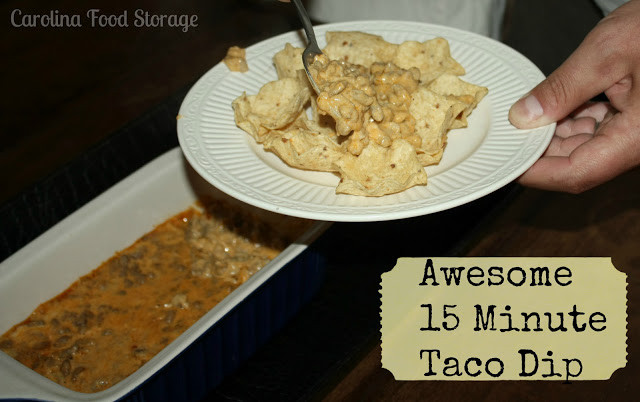 Ingredients:
4 Cups THRIVE Freeze Dried Ground Beef
1 Cup THRIVE Freeze Dried Sausage Crumbles
2 Cups THRIVE Freeze Dried Cheddar Cheese*
1 Cup THRIVE Freeze Dried Monterey Jack Cheese*
2 1/2 Cups THRIVE Sour Cream Powder + 2 Cups Water Whisked Together
2 Packs Taco Seasoning
Preheat oven to 350 degrees.  Combine meat and taco seasoning in a large pot and fill with water until meat is just covered (4 1/4 Cups).  Bring pot just to boiling and simmer for 3-5 minutes.  Once meat is rehydrated remove from the stove.  Drain any remaining water from the meat.  Mix meat, cheese and sour cream and pour into a 9″ x 11″ baking dish.  Bake for 10 minutes.
Note: This recipe makes enough for a large crowd.  For a group of six I divided this recipe by four.
* Rehydrated – Click here for detailed instructions