On The Path To The Triple Crown
We were very excited to help a Father and Daughter team with their food needs while hiking the Appalachian Trail. You can help support them too! When placing an order through our website add
AT behind your name at checkout and we will donate 10% of your order in free food for their upcoming CDT hike. Below is an entry from Balls & Sunshine.
If your lucky enough to be in the mountains, then you're lucky enough. This makes me the luckiest man alive, because on top of that, I spent the last 4 months in the mountains with my oldest daughter Sunshine! Sunshine is a very goal driven girl and plans to be the youngest Triple Crown Hiker at age 13. The triple crown of hiking is the Pacific Crest Trail 2,652 miles, the Appalachian Trail 2,184 miles, and the Continental Divide Trail at 3,100 miles. We already hiked the PCT in 2011 and just finished the AT this summer.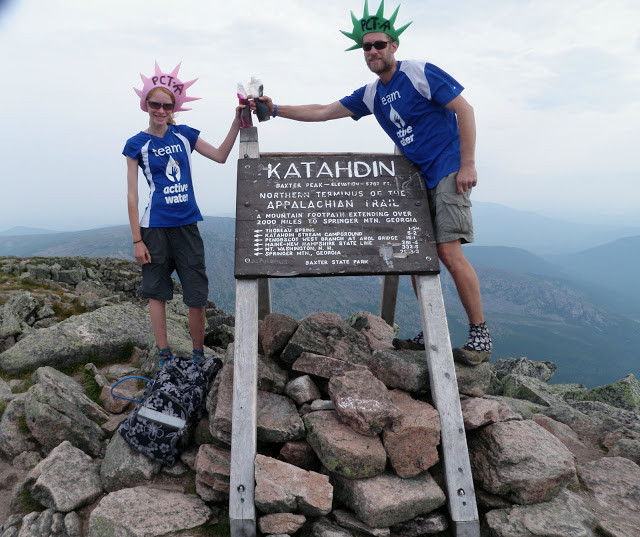 Balls and Sunshine Complete the AT on the Summit of Mt Katahdin
People continue to ask us what is the difference between the two trails, or which we like the most. The first is a tough question. Everything is different about the two trails. The PCT passes through much more wilderness lands while the AT has more towns and development near by. This gives the AT hiker the opportunity to resupply more often and carry less food weight. However the PCT hiker enjoys more solitude and less distraction from the modern world. The PCT allows horses, which keeps the grade less than 14% while the AT at times can be very rugged and steep. Sunshine tripped and broke her arm on the rocky Pennsylvania tread, however the dry and dusty PCT gave her more blisters and one of them became badly infected. She recovered from both of those set backs and bravely finished the trails with grace and determination. Both have their rewards and challenges, but as Oregonians, the PCT is home and will always hold a special place in our hearts.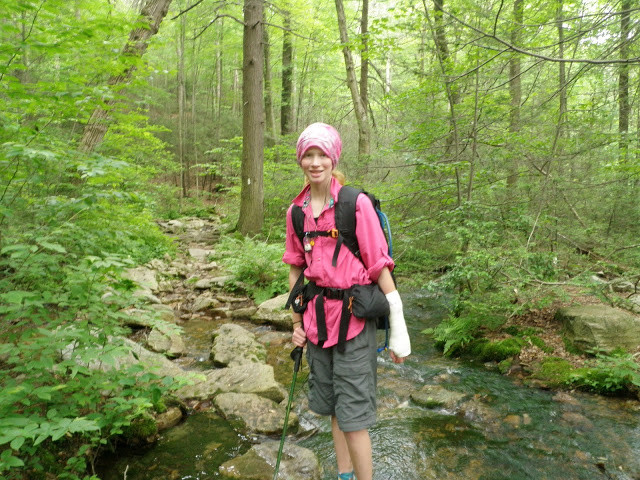 Sunshine sporting her cast on the AT.
When it comes to preparing for a long hike, there is nothing more important than finding the right food! It has to be healthy, have the appropriate calorie to weight ratio, and most importantly, delicious! Carolina Food Storage helped us achieve all these elements for our Appalachian Trail adventure with their delicious and nutritious Thrive Foods. When you are hiking for 4 to 5 months at a time, it is very easy to get bored with typical backpacking foods, but thanks to Carolina Food Storage and Thrive Foods, this never happened this year. We especially enjoyed Tacos, Sloppy Joes and Chicken Salad made from THRIVE freeze dried foods. We also enjoyed adding THRIVE powdered whole milk and berries to cold cereal and water many mornings. We usually woke up at 5:00 am each morning and snuck out of camp, not waking up the other hikers, by 5:30. We would walk 3 to 6 miles before stopping for our delicious breakfast, then we brushed our teeth and hit the trail again for another 20 some miles. Thank you THRIVE Foods and Carolina Food Storage!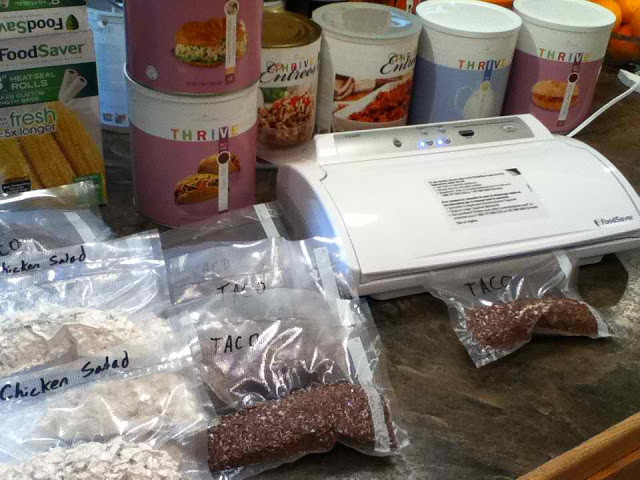 Preparing our meals for the hike.
Good news! We are raising money to provide clean drinking water for villages in Zambia Africa. Thousands die each year from water born diseases there. We committed to raising $4362 (two dollars for every mile we walked on the AT), which is enough to provide one village well and a few family water filters. A very generous anonymous person committed to matching all contributions up to our goal! This means we can provide two villages with wells! As of now we have raised just under $4,000 including this match. Think of the lives we can save together! Please see our Active Water page at: