Food Storage Recipe: Breakfast Casserole Bowls
I love having freeze dried sausage on hand.  It allows me to take plain old biscuit mix and make a meal out of it in no time.  The best part is that I don't have a greasy pan to deal with after breakfast!  The only bad thing is that I end up snacking on my sausage crumbles straight out of the can while I am cooking.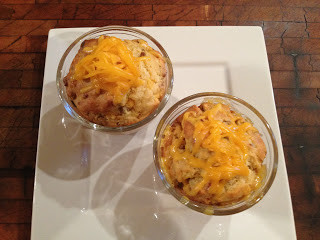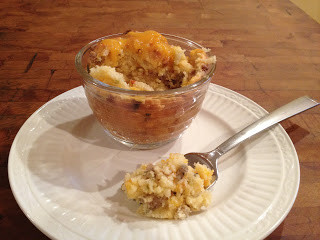 Ingredients:
1 Package of Instant Biscuit Mix (I used Bisquick Garlic Cheddar)
1/2 Cup Shelf Reliance THRIVE Freeze Dried Sausage Crumbles*
2 Tbs Shelf Reliance THRIVE Red & Green Bell Peppers*
2 Shelf Reliance Whole Eggs Prepared
2 oz Shredded Cheddar Cheese
Preheat oven to 350. Mix water eggs and biscuit mix in a large bowl.  Once mixed add re-hydrated sausage and bell peppers.  Pour mixture into greased muffin tins or glass baking dishes.  Bake for 20 minutes or unit a fork inserted in the center comes out clean.  Top with cheddar cheese and place under broiler just long enough to melt cheese.
*Re-hydrated