Sausage-Zucchini Casserole
I made this yummy casserole last night.  I love recipes that have only a few ingredients.  It keeps it quick and simple without sacrificing the taste.  For this recipe I used
THRIVE freeze dried Sausage Crumbles
.  I have found that with most of my THRIVE ingredients the suggested method of re-hydration often has too much water and is soaked too long.  I usually take a cup or so of water and boil it in the microwave then pour the boiling water over the ingredient just enough to get it wet.  It only took about 5 minutes for the Sausage Crumbles to re-hydrate.  I did toss them in a skillet for a few minutes to brown the edges of the meat.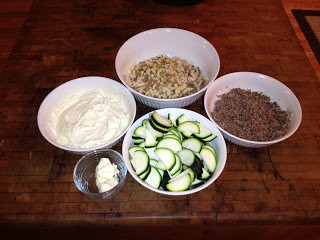 These ingredients couldn't get much easier!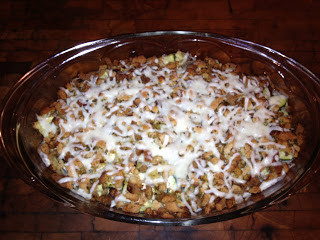 After baking the casserole I decided to add
                        a little shredded Mozzarella cheese.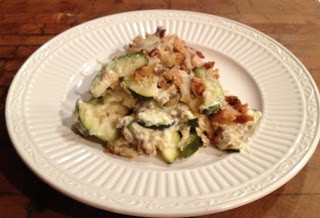 This made an excellent main dish and we used
                      the leftovers as a side dish the next day.
Ingredients:
2 Medium Zucchini
1/2 Can Cream of Chicken Soup
6 Oz Sour Cream
2 Cups Chicken Flavored Stuffing
1/2 Cup Melted Butter
Preheat oven to 350 and lightly grease your dish.  Brown Sausage Crumbles over medium heat then add zucchini for 3 minutes to warm them up.  While the Sausage Crumbles are browning mix together the cream of chicken soup with sour cream.  Combine the sausage mixture with the soup mixture in a large mixing bowl.  In a medium sized bowl mix stuffing with melted butter.  Place half of the stuffing on the bottom of your casserole dish, cover with sausage-zucchini mixture and top with the remaining stuffing.  Bake covered for  30 minutes.  If desired, remove cover and top with shredded cheese.  Bake for an additional 1-2 minutes or until cheese is melted.