Mini Pancake Muffins With Cream Cheese Filling
I have been trying out recipes with THRIVE 6 Grain Pancake mix and am in love with it!  The taste is so rich and beats any pancake mix I have used in the past.  I made these little muffins in no time and they were delicious!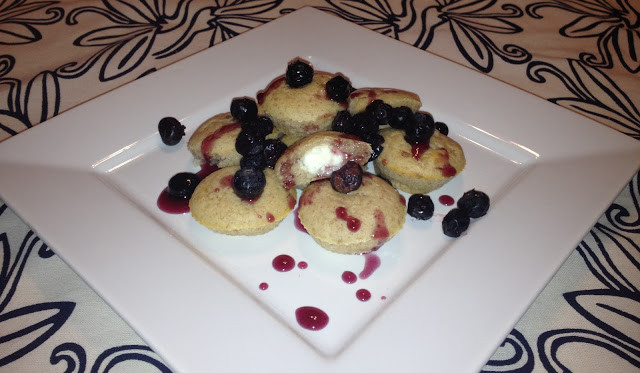 Ingredients:
1/3 Cup Water
1-2 Oz Cream Cheese
1/4 Cup Blueberry Syrup
Preheat oven to 350 degrees.  Spray 12 mini muffin tins with non stick cooking spray.  Mix together pancake mix and water until blended.  Pour pancake mixture into the muffin tins filling them 1/3 of the way up.  Pinch off small pieces cream cheese and drop one piece into each muffin tin.  Pour the remaining mix on top of each tin filling the cups 3/4 of the way full.  Bake 15-20 minutes or until lightly golden brown.  While your muffins are baking pour cold water over the blueberries for 5 minutes to re-hydrate then drain.  Top muffins with blueberries and syrup and enjoy!