Macaroon Brownies with THRIVE food storage
Our family game night was just around the corner and I forgot that I had signed up to bring a dessert!  Luckily I had THRIVE brownies and macaroons in my pantry.  With THRIVE deserts all you need to add is water!  How much easier can it get?
I decided to combine these two treats to make an awesome brownie with macaroon filling.  They were a big hit!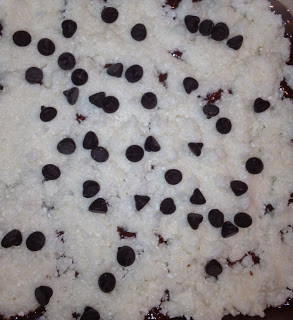 After layering the macaroons over the brownie mix I added a few semi sweet 
chocolate chips….you can't have too much chocolate.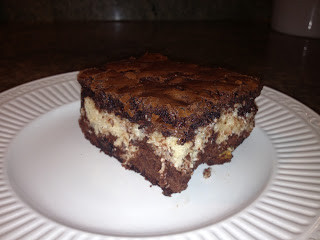 Ingredients:
1 1/4 Cups Hot Water
1/4 Cup of Chocolate Chips
Preheat oven to 350 degrees and grease an 8″ square glass baking dish.  In a large bowl mix together brownie mix and 10 Tbs hot water together with a whisk until blended.  Let sit 15 minutes.  In another bowl mix together macaroon mix and 5 Tbs of hot water.  Let sit for 5 minutes.  Layer half of the brownie mix in the greased dish, cover with macaroon mix and chocolate chips then top with remaining brownie mix.  Bake uncovered for 30 minutes or unit a toothpick inserted in the middle comes out clean.