Buffalo Chicken Pasta
For some reason we just can't seem to get enough of anything with a buffalo flavor kick!  A few nights ago we decided to make a buffalo chicken pasta.  We used pretty much all food storage ingredients, which is awesome!  I love being able to throw something together at a moments notice knowing that I will have the items needed on hand.
The creamy cheese sauce was quick and simple to prepare.  We used the leftover sauce the next night over our asparagus and it was even better the next day.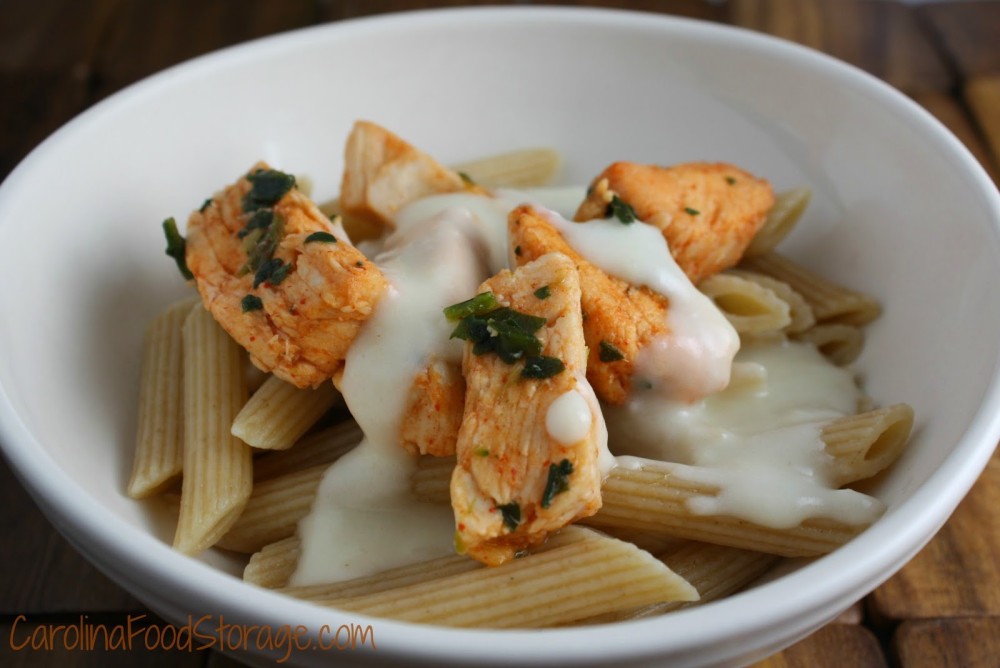 Chicken
2 cups thrive freeze dried seasoned chicken slices
1/2 cup thrive freeze dried spinach
1/4 cup hot sauce
In a large zip close bag combine chicken, spinach, hot sauce and 1 cup of water.  Let sit for 20 minutes flipping the bag until the meat is fully rehydrated.
* note – if you accidentally add too much water you can drain it before adding to the pasta
Sauce:
1 tablespoon butter
1 teaspoon minced garlic
2 teaspoons flour
1 cup thrive instant milk prepared
1 cup thrive freeze dried parmesan cheese prepared
Melt butter in a large saucepan over medium heat.  Add garlic and cook for approximately one minute to soften.  Combine flour with the butter mixture and stir for one minute then slowly pour
in milk and cheese stirring constantly until sauce is thickened.  Meanwhile prepare pasta.
Pasta
Add 2 cups thrive whole grain penne pasta to a large pot of salted boiling water.  Cook for 7-9 minutes.  Drain pasta and top with chicken and sauce mixture.