THRIVE Philly Cheese Steak Casserole 100% Food Storage
Yummmmmmy!  This is by far one of our most favorite new recipes we have come up with.  We were in the mood for beef but didn't want anything with a Mexican or Italian flavor and this dish hit the spot.  The fact that this is from 100% dry food storage just makes it that much better!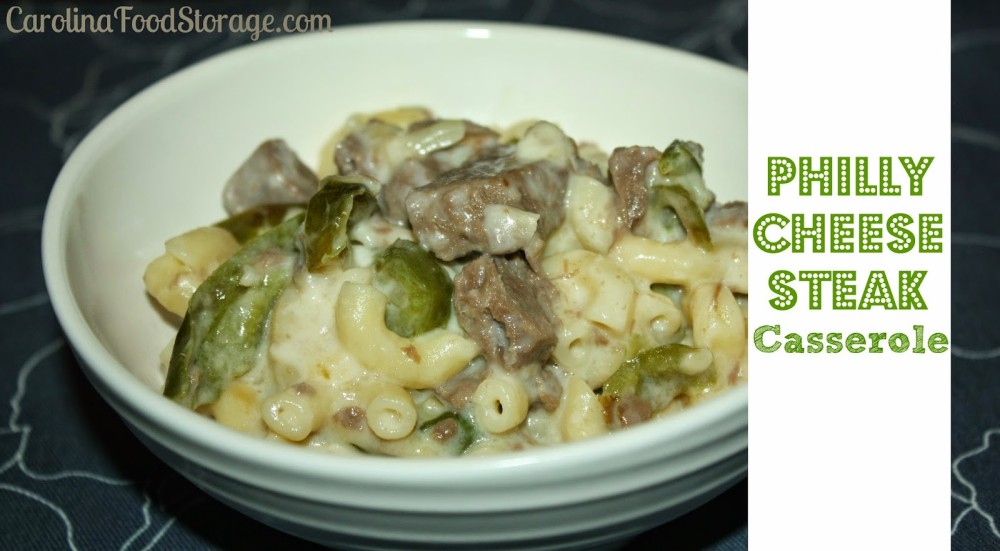 For tonight's dinner I decided to saute the peppers and onions.  After cooking the meal I think that it is safe to say you can skip this step and rehydrate these along with the meat and it wont make that much of a difference in flavor.
We hope you enjoy it as much as we did!
ingredients
2 cups THRIVE elbow macaroni
2 cups THRIVE freeze dried green bell peppers
3 cups THRIVE freeze dried beef dices
2 cups THRIVE freeze dried mozzarella cheese
3 cups THRIVE powdered milk*
1/2 tbs THRIVE chopped onions
2 tbs THRIVE flour
2 tbs THRIVE butter powder*
preheat oven to 350 degrees.  combine beef dices, peppers and onions in a large mixing bowl and rehydrate with room temperature water.  meanwhile boil noodles in a large sauce pan. start your cheese sauce by adding prepared butter powder with flour in a medium sauce pan over medium heat. once blended add prepared milk and freeze dried cheese stirring frequently, be careful not to scorch the sauce as it will thicken as it cooks.  once noodles are cooked, drain in a colander.  combine all ingredients into a large casserole dish and bake covered for 20 minutes.