Easy Cheesy Taco Balls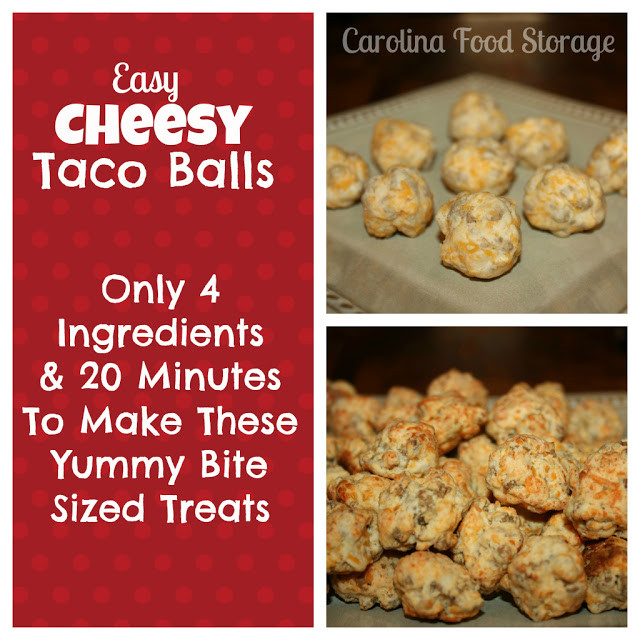 After making a ton of sausage balls the other week for a local show I needed to make another batch for a Christmas party.  I quickly realized that I had used and sold every single can of sausage that I had in my food storage.  I have not run into this problem in quite some time.  This is one of the great benefits of having your home store stocked.  Luckily I had plenty of freeze dried ground beef on hand and ended up making a similar recipe only using my freeze dried ground beef and make little taco balls.  They turned out really good although I have to say that the sausage is still my favorite.  I served these with little dipping containers of salsa and sour cream, yummy!
Ingredients:
1 1/4 Cups THRIVE Freeze Dried Ground Beef
3/4 Cup Water
1 Cup Bisquick
3 Tbs Taco Seasoning
1 Cup THRIVE Freeze Dried Shredded Cheddar Cheese *

Preheat oven to 425 degrees.  Combine water with ground beef and taco seasoning in a medium pot and bring to a boil.  Simmer for on low for 5 minutes or until rehydrated.   Remove from pot and  combine with cheese and Bisquick in a medium sized mixing bowl.  Mix well with your hands and press mixture into a dough.  Make 1″ balls by rolling mixture in the palm of your hand.  Place the balls on a cookie sheet sprayed with non stick spray and bake for 10-13 minutes. Makes approximately 20 balls. 

*Rehydrated – Click here for instructions.