What makes Shelf Reliance the best freeze dried food company?
I often get asked, What makes Shelf Reliance the best freeze dried food company? Take a look at he picture below and if this does not convince you take a look at a few things that set THRIVE foods apart from any other company on the market today!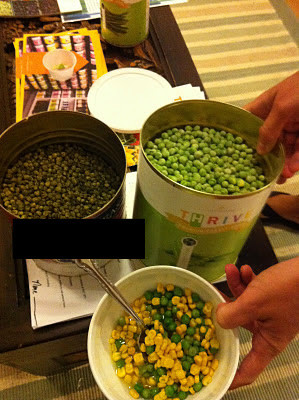 Photo Courtesy of Marci Pratt
Shelf Reliance Independent Consultant
Product Offering
Shelf Reliance offers more products in more packaging sizes than any other company.
Pouches – Great for trying new products, backpacking and gifts.
Pantry Cans – A must have for your cabinets and for those ingredients that you don't use often.
#10 Cans – These are a great size for everyday stables and the larger the size the better the pricing.
Buckets – You can save 20% when ordering products in buckets.
Quality
THRIVE foods are made from the freshest and highest quality ingredients. The Shelf Reliance quality assurance team reviews each product to make sure that it meets our high standards of premium quality.
Taste
Since THRIVE was developed for everyday use the foods are are not only long lasting but great tasting. This is not a product that is meant to be hidden away and never used. With THRIVE foods, great taste is the standard – not the exception.
Value
With a low per serving cost, THRIVE is a great way to save money while giving your family the food variety and nutrition they deserve.
Easy
Having the ability to store multiple items in your pantry without refrigeration or worry that it may spoil will open up a whole new world of quick and nutritious meals. Not only will you always have that one ingredient that you only use a few times a month you will also save the time of dicing, chopping and browning because it has all been done for you…..just add water and you are done.
Organization
Color coded cans keep your food organized while ensuring your diet contains the correct balance of each food group. When combined with our Food Rotation Systems, THRIVE foods are constantly rotated on a first in first out basis. This guarantees your family receives the freshest food possible and helps reduce waste.