Shelf Reliance August Specials, Say Cheese!
STARTING AUGUST 2ND SAVE 20% ON THRIVE FREEZE DRIED
COLBY and Monterey jack cheese!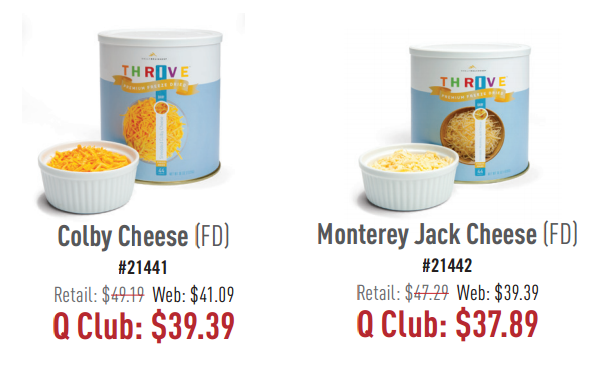 CHEESE RECONSTITUTION RECIPE
Todd C. Leonard, CEC | Serves: 8 | Prep Time: 4 min
Directions
1. Place the THRIVE cheese in a glass bowl.
2. With a spoon, lightly stir cheese while drizzling cold water over the cheese. Stir continuously until all the water is incorporated into the cheese.
3. Water should just barely start to collect on the bottom of the glass bowl. This is a sign that the cheese has absorbed enough water.
4. Place cheese in a zip lock bag and store in refrigerator overnight or for several hours before use.
Note: Cheese will last up to 8 days in refrigerator. Continue to reconstitute cheese, as you need it, following these simple steps. Adjust quantity for individual needs.
Serving Ideas
Enjoy THRIVE Cheese in your nachos, quesadillas, lasagna, pastas, salads, sandwiches, and many more wonderful cheesy and delicious recipes!