Shelf Reliance 1 Year Package Sale
Starting Monday the 26th Shelf Reliance is having a sale on their 1 year 4 person package.
This is a great package that is based on a 1500 calorie per day diet and averages around $2 per person, per day! That is almost as much as you would pay for a large tea from a fast food restaurant!


This sale is good through April 16th or while supplies last. This package can not be ordered online, to place an order please call or email and I will process your order. Sale price for this package is $2,932.64 + tax (Shipping Is Included)
BONUS SALE: As an added bonus, orders placed through the end of the month will receive 2 #10 cans of Freeze Dried Chicken and 2 #10 cans of Freeze Dried Beef Dices!
That is an additional $200 savings.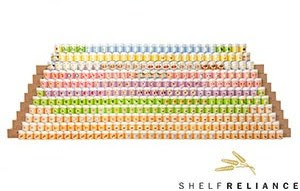 The package consists of the following #10 cans and our THRIVE Cookbook:
Grains:
6 – 6 Grain Pancake Mix
6 – Germade
6 – Oats-Quick
6 – 9 Grain Cracked Cereal
36 – Wheat, Hard White Winter
6 – Flour-White
9 – Flour-Whole Wheat
6 – Cornmeal
6 – Elbow Macaroni
18 – Rice-Instant
8 – Rice-White
Proteins & Beans:
3 – Taco (TVP)
6 – Bacon (TVP)
6 – Beef (TVP)
3 – Sausage (TVP)
3 – Sloppy Joe (TVP)
6 – Chicken (TVP)
3 – Ham (TVP)
6 – Lentils
6 – Barley-Pearled
12 – Beans- Black
6 – Beans-Kidney
14 – Beans-Pinto
6 – Eggs-Whole powdered
Dairy:
6 – Chocolate Drink Mix
24 – Milk-Powdered
6 – Mac & Cheese Powder
Fruits:
2 – Pineapple Chunks (FD)
4 – Raspberries (FD)
1 – Blackberries (FD)
1- Blueberries (FD)
4 – Apples-Sliced
6 – Strawberries (FD)
4 – Apple Chips
2 – Banana Chips
Vegetables:
16 – Potato Chunks
6 – Corn-Sweet (FD)
2 – Broccoli (FD)
2 – Carrot Dices
6 – Peas-Green (FD)
3 – Peas-Split Green
2 – Onions-Chopped (FD)
2 – Onions-Chopped
4 – Sweet Potato
6 – Mixed Bell Peppers
Basics:
6 – Orange Drink
4 – Peach Drink
6 – Apple Drink
2 – Bouillon-Beef
2 – Bouillon-Chicken
Dessert:
Cooking Basics:
1 – Baking Powder
1 – Salt-Iodized
2 – Sugar-Brown
4 – Sugar-White