Shelf Reliance 6 Pack Sale
Update on sale dates for this awesome package sale!

Due to an overwhelming response to this package sale, we need to change the parameters of the sale dates. To ensure our ability to fulfill orders for these packages in a timely manner, this sale will now be ending Thursday, March 8th at 10am Mountain Time.

Shelf Reliance is having a great sale on their freeze dried meat and freeze dried cheese six packs. The sale starts today and runs through March 18th.
If you have not tried the meat or cheese you wont be disappointed! We use it on a daily basis. It is so convenient and tasty.
Save $75 on the meat package and $100 on the cheese package!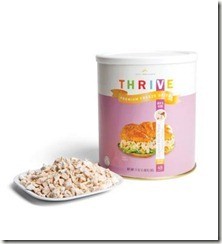 Beef & Chicken
Catalog ID: 25421
Sale Price: 144.60 Contents:
3 Chopped Chicken (FD)
3 Ground Beef (FD)
Cheese 6 Pack
Catalog ID: 25347
Sale Price: 154.65
Contents:
2 Cheddar Cheese (FD)
2 Monterey Jack Cheese (FD)
1 Mozzarella Cheese (FD)
1 Colby Cheese (FD)
This sale is only available through me and can not be ordered directly through our website. Call or email if you would like to order or have any questions.
Leigh Ann ~ leighann@carolinafoodstorage.com ~ 803-443-6636