Baked Spaghetti
Growing up my Uncle would cook baked spaghetti for my Sister and I whenever we visited.  Back then I was not a fan,  I was the definition of a picky eater.  Luckily the older I got the more foods I started to love.  I decided to use some of my food storage to recreate my Uncle's recipe.  The picture does not do it justice.  I should take a course in photography!

Ingredients:
1 16oz package of spaghetti
1 26oz can of spaghetti sauce
3 Tbs THRIVE Freeze Dried Onions
1 1/4 Cup THRIVE Freeze Dried Ground Beef
3/4 Cup Sour Cream
6oz Shredded Cheddar Cheese  (I like cheddar although mozzarella would be great too)
1/4 Cup sliced green olives

This recipe could be used with 100% THRIVE food storage ingredients.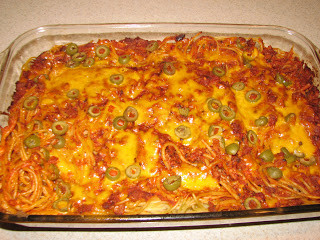 Cook spaghetti according to the package details.  In a medium sized bowl combine re hydrated ground beef, onions and spaghetti sauce.  Once the spaghetti is cooked layer it in the bottom of a greased 9 x 13 pan. Mix spaghetti with the sauce mixture and sour cream.  Top with shredded cheese and olives.  Bake at 350 for 25 minutes.