Easy Shelf Reliance Chicken Salad With Pecans & Craisins
I love chicken salad and love the ease of making a quick batch with Shelf Reliance's Freeze Dried Chicken!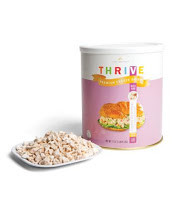 Recipe:
1 1/4 Cups Thrive Chopped Chicken (FD) reconstituted
1/4 Cup Mayonnaise
1/4 Cup Craisins
1/4 Cup Chopped Pecans
Salt
Pepper
Garlic Powder
Add Mayonnaise, Craisins & Pecans to Drained Chicken
Mix Well & Season To Taste With Salt Pepper & Garlic Powder
Typically I will refrigerate my chicken salad and eat it cold on crackers. If you are looking to make this dish as an entree I love baking it on toast topped with sharp cheddar cheese. The sharp cheese is a nice contrast to the sweetness of the craisins.
I hope you enjoy this as much as my family!