Shelf Reliance Emergency Water Filter, Radio, Flash Light 4 Pack Combo Sale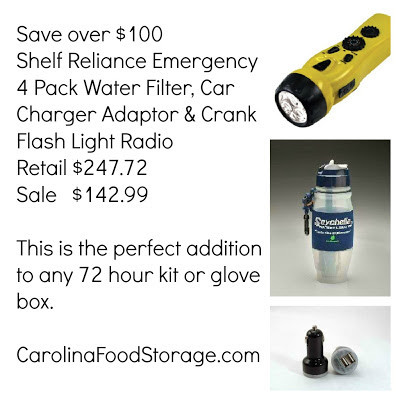 This kit is not available online. Contact me to take advantage of this great sale.
leighann@carolinafoodstorage.com
The 28oz Seychelle Water Filtration Bottle provides great-tasting, fresh water wherever you are. Ideally suited for situations where the drinking water source is questionable or not disinfected, it comes with an attractive insulator sleeve.
The 28oz Advanced Seychelle Water Filtration flip top bottle is the perfect solution for those traveling to foreign countries where safe drinking water is at a premium.
The insulator sleeve attaches to a belt or backpack, and is great for any outdoor use: walking, hiking, biking, travel, camping or emergency preparedness!
The bottle produces up to 100 gallons of great-tasting water; and is equal to 757 half liters of bottled water! For the 75% of the water consumed away from home, this is the perfect portable product!
Key Features:
Now with BIOSAFE®, removes up to 99.99% of bacteria, virus, contaminants and pollutants found in drinking water sources using its proprietary Ionic Adsorption Micron Filtration System.
Contains Iodinated Resin (EPA Reg. # 35917-2) and other proprietary media which effectively reduces virus and bacteria to six logs (99.9999%).
Produces up to 100 gallons of filtered water or more depending upon the quality of the source water.
Has a screw on/off fill from the top cap for easy filling.
28 oz size is compact, light weight and easy to use!
Tested by Independent laboratories using EPA/ANSI protocols and NSF Standards 42 and 53.
Environmentally safe! Does not pollute the countryside!
Reusable – made of FDA approved low density polyethylene #4 plastic – Will not leach! BPA free!
Filter is replaceable.
12V to USB car adapter with I-pad support.
Plugs into the cigarette receptacle in you car and provides power to any USB device through its double USB outlets.
Compatible with the Apple I-pad.
Input: 12vdc or 24vdc
Output: 5.0vdc – 2.1A
• Dynamo Radio AM/FM, NEVER change batteries
• 3 Bulb LED Flash Light
• I minute of cranking will burn light for up to 90 minutes
• Crank Handle folds into back completely out of the way
• Radio Antenna for improved reception
• Siren for emergencies
• Charges Cell Phones
• Head Phone Outlet (Headphone not included)