Become a THRIVE Life Consultant And Get Free Shipping & $100 in Free Products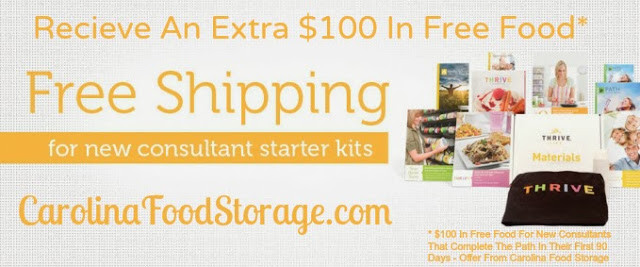 When you enroll as a Thrive Life consultant in October, you'll get FREE shipping on your starter kit!
This promotion is for enrolling consultants only and can be used on any of our starter kits. Click
here
to see what supplies, marketing materials, and delicious THRIVE foods come in each of our starter kits. Your starter kit is the only purchase necessary to get your Thrive Life business started—don't miss out on an opportunity like no other!
Why Become a Consultant?
With Thrive Life, you can earn an income on a flexible schedule, all while building your long-term food storage and making your daily meals more convenient. Here are just a few of the perks of being a Thrive Life consultant:
20–32% commission on the first shipment of every Q you set up
Residual income from recurring Q orders each month
10% commission on all regular party orders, including personal purchases
Commission on your team sales for up to 3 levels of your team
An ASAP Bonus of $50 for each consultant you enroll
Free and half-off product when you host your own parties
Best pricing on products, and first access to new products
Chances to win incentive trips to exotic locations, and much more!
To join our team click below or call me, Leigh Ann @ 803-443-6636
Enroller ID 4576
Enroller Name Leigh Ann Pettit
Enroller Email: leighann@carolinafoodstorage.com