Shelf Reliance Static V Sleeping Pad
Yesterday I received our Static V Sleeping Pad by Klymit. The Stativ V is a lightweight inflatable pad that offers body matting technology at an entry level price. The V chamber design which limits air movement and heat loss offers a unique ergonomic body map for peak performance and comfort.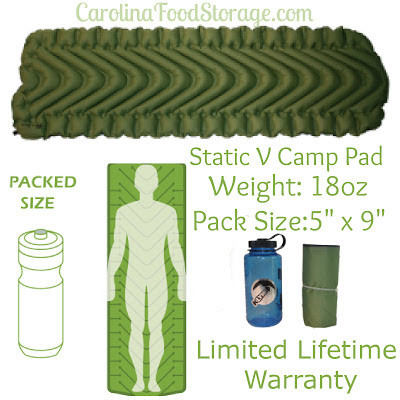 The packaging is pretty small, about the size of a large water bottle. I had been looking for something that would serve a dual purpose for my 72 hour kit and for backpacking trips. The size is small enough to be an easy addition to both packs and the cost is only $58.79! I tried it out last night for a bit while we were hanging out watching tv. The pad is large enough for a full sized adult. It fit great for my husband who is 6′ tall and once you are laying down there are no pressure points that are hitting the ground even though the pad is only a few inches thick.
The manufacturer states that the pad can be blown up in about 10 breaths and it took me 12 which is not too bad. The pad also features a simple to use push valve for easy inflation and deflation. I was pleasantly surprised at how well I was able to repack the pad into the carry case. Normally things like this are as aggravating as folding a map back in the correct position but this was a piece of cake.
The pack also comes with a patch kit which I hope to never need. I guess the real test will be to take it on a backpacking trip this spring and see how well I like it after a few days. I am excited to try it out for more than just a movie night!
Weight: 18.1 oz,514 g
Dimensions: 72″ x 23″ x 2.5″,183 cm x 59 cm x 6.5 cm
Type: inflatable Sleeping Pad
R-Value: 1.3
Packed Size: 5″ x 9″, 12.7 cm x 22.8 cm
Includes: Stuff Sack, Patch Kit
Warranty: Limited Lifetime